On September 8, the California Department of Forestry and Fire Protection (Cal Fire) tweeted that "Compared to last year, California has seen over 2,650 more fires and a nearly 2000% increase in the acres burned year-to-date (January 1 – September 7), across all jurisdictions." And the Cal Fire website says that "This year, wildfires have now burned over 2 million acres. There have been 8 fatalities and more than 3,300 structures destroyed."
Nearly 14,000 firefighters remain on the line battling 25 major wildfires across California.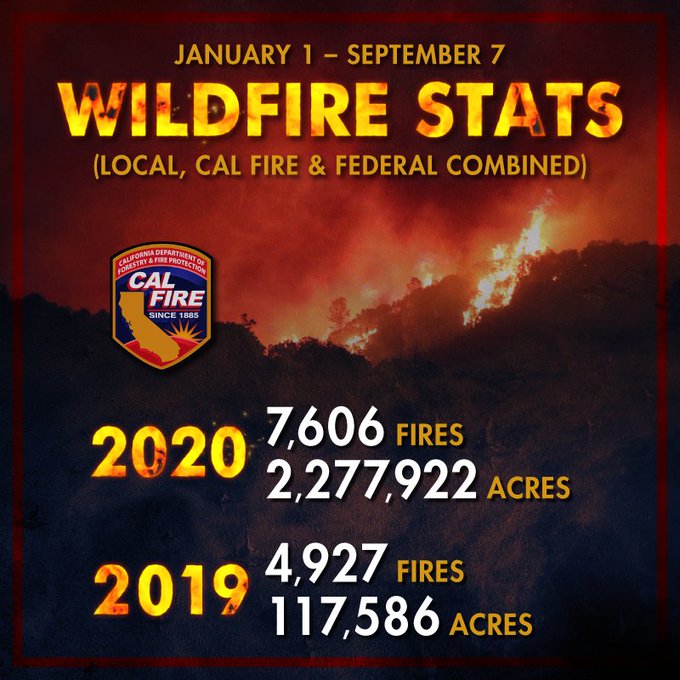 A New York Times article citing Gov. Gavin Newsom declared this one of the most active fire seasons ever.
Katie Lewis, an Arroyo Grande Hotshot Forest Service firefighter, told Cities of the Future that when the skies are visibly smokey outside, she hears more from friends and family texting her well wishes and thanking her for her service. "When you go outside and everything's like a slight tint of orange and the sun is, you know, just glowing red, or the moon's kind of off, it's a constant reminder of what's going on in California right now."
"It's an every year thing now," commented Colin Shanahan, a data analyst for cybersecurity company Nightfall AI. "I guess this year it's almost some ways less of a change cause we're already stuck inside." He noted that he's bought N95 masks in previous years to deal with the smoke, but now he wouldn't want to take those masks away from healthcare workers.
"The forecast says partly cloudy, and it's totally grayed out, and I'm not sure how much is fog or smoke," Shanahan said. He added that while he usually goes outside to exercise or walk to the store, the poor air quality has kept him inside. There's no air conditioning in his Bay Area apartment, and smokey skies have prevented him from opening windows. Shanahan said he purchased a fan when fire season started this year to combat the intense heat.
Shanahan said his coworkers are struggling remotely in similar situations. Laughing at how the office chat has changed, he remarked, "You can't talk about your commute anymore, so you talk about how smokey it is."
Scott Clizbe, senior sales manager at Dozuki, a tech company that designs and sells digital work training software, said that maintaining focus was his biggest struggle with the initial transition to remote work —a challenge that the blazing wildfires only amplified.
Reflecting on the worst of the smoke in San Luis Obispo County from mid to late August, Clizbe recalls, "My basic fundamental needs weren't being met. The environment was so intense that my focus really was on how do I cool off, how do I get a breath of fresh air, realistically, I couldn't even conjure a normal thought."
Clizbe said that he relied on drinking ice water to get him through as he has no air conditioning. With the windows closed, his fan essentially just blew hot air around the space. "You really just had to grin and bear it. It was really intense, and my focus really suffered."
A couple of Clizbe's coworkers lost power. He said that another coworker who had a newborn baby rented a hotel room near their house to have air conditioning.
"The only solace that I think any and all of us felt is just the experience of shared misery. Everyone knew that everyone else was experiencing it just as bad, everyone was in the same boat." 
---
Sign up to our newsletter to receive the latest Cities of the Future news. You can also follow us on Twitter.